Årets nummer av NoSo – Nordisk tidskrift för socioonomastik – är publicerat online på en ny plattform, med full Open Acess, sökbart arkiv och andra fina funktioner! Gå gärna in på https://publicera.kb.se/noso och klicka runt!
---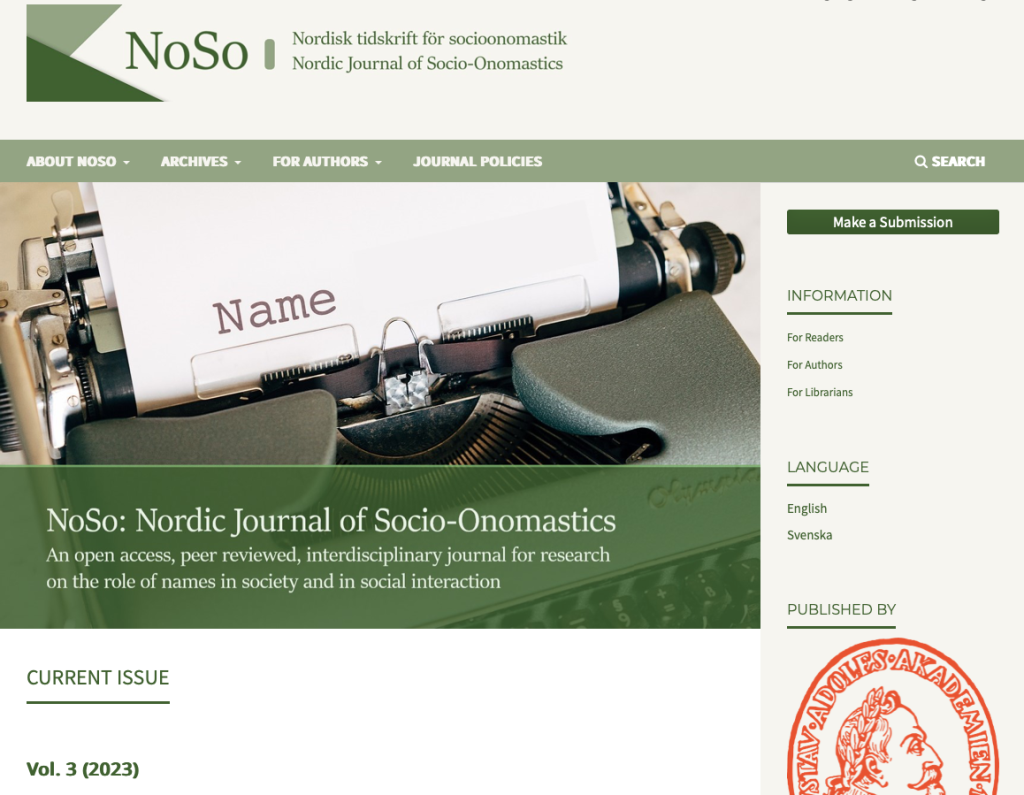 ---
Det här året fylls NoSo av ett temanummer med titeln "Social representation and naming in sociocultural discourses". Fem fina artiklar, liksom ett förord av gästredaktörerna Terhi Ainiala och Minna Nevala, ingår. Artiklarna, som denna gång alla är skrivna på engelska, knyter an till framträdanden som hölls vid en workshop inom språkkonferensen The XLVII Annual Conference on Linguistics, Tampere, Finland, mars 2021 och behandlar både namngivningspraktiker och andra näraliggande språkliga praktiker som kategorisering och etikettering. Gemensamma perspektiv som tas upp i flera av artiklarna är hur namngivning kan bli en viktig del i skapandet av gruppidentiteter, hur namn tydliggör social representation och hur namngivning kan bidra till sociokulturell inkludering och exkludering. Gästredaktörernas förord ger en viktig teoretisk bakgrund till området namn och social representation.
Många av bidragen visar hur statistiska verktyg och datorunderstödda korpusanalyser kan underlätta utforskandet av ett stort material. Terhi Ainiala, tillsammans med Salla Jokela, Jenny Tarvainen och Jarmo H. Jantunen, använder korpusmetoderna CADS och kollokationsanalys för att studera hur människor i diskussionsforum på webben använder omtalsformer som relaterar till finska städer (t.ex. "Stadilainen", ett slangnamn för Helsingfors) och visar hur det därigenom skapas föreställda motsättningar mellan olika grupper av människor som bor på olika platser i artikeln Geographic imagination and urban-rural binary in online discourses related to the capital region of Finland. Antti Kanner och Jaakko Raunamaa använder statistisk korrelation för att undersöka om omnämnandet av välkända personer i media kan ha påverkat namnmodet i Finland i början av 1900-talet och argumenterar för att det behövs en mer nyanserad förståelse för samverkansmekanismerna mellan media och namnmode i artikeln Large-scale statistical analysis on representation of public figures in newspapers and naming conventions in Finland in 1900-1939.
I andra bidrag kombineras kvantitativa och kvalitativa metoder på intressanta sätt. Minna Nevala och Jukka Tyrkkö kombinerar kvantitativa urvalsmetoder och kvalitativa näranalyser för att undersöka hur människor med psykisk ohälsa omtalas och etiketteras på successivt förändrade sätt i Brittiska parlamentets protokoll från 1950-tal till 2000-tal i artikeln Lunatics and idiots. Även Hanna Limatius artikel 'The superfats, the middlies and the barely-fats' kombinerar kvantitativa och kvalitativa analyser i sin studie av modebloggar och pekar på innovativa språkliga konstruktioner som omförhandlar invanda föreställningar om kroppars utseende. Maria Sarhemaas artikel Appelativized first names as terms of abuse kombinerar korpusanalyser med en webbenkät för att undersöka när och hur vissa finska mansnamn (Uuno, Tauno, Urpo) används som nedsättande substantiv.
Trevlig läsning önskar redaktionen!
Är du intresserad av att skicka in ett bidrag till NoSo? Gå in på webbplatsen eller kontakta redaktionen för mer information.
Emilia Aldrin