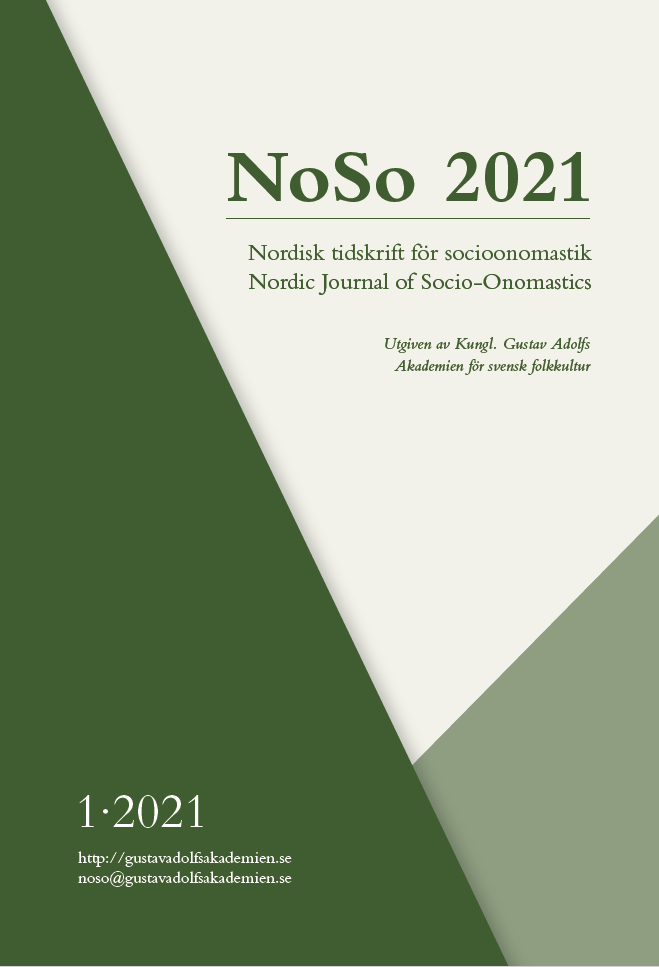 Ni har väl inte missat att första numret av NoSo – Nordisk tidskrift för socioonomastik / Nordic Journal of Socio-Onomastics har kommit? Vilken känsla att hålla det tryckta numret i sin hand efter alla förberedelser och väntan! För den som hellre läser på skärm finns NoSo också Open Acess Online. Äntligen har vi nu en gemensam publiceringskanal för alla socioonomaster och en plattform för tvärvetenskapliga diskussioner om namns betydelse i samhället och i den mänskliga interaktionen – liksom hur vi som forskare bäst studerar dessa spännande frågor. I det första numret (NoSo 1-2021) har medlemmar ur tidskriftens internationella råd bidragit med artiklar utifrån sina respektive forskningsområden. Resultatet blev en myllrande mångfald av perspektiv och metoder!
I artikeln Places of power: naming of affective places utforskar Terhi Ainiala och Pia Olsson hur platser och platsers namn kan ge en känsla av "empowerment".
I Referring to women using feminine and neuter gender: Sociopragmatic gender assignment in German dialects (av Simone Busley och Damaris Nübling) får läsaren bekanta sig med det tyska bruket att i vissa situationer ange förnamn i bestämd form – och den spännande upptäckten att valet mellan feminin respektive neutral bestämning (die Anna eller das Anna) styrs av olika sociala och pragmatiska faktorer.
I artikeln The (im)morality of disease names: COVID-19 diskuterar Elwys de Stefani den aktuella frågan om hur sjukdomar bör namnges – och beskriver hur användning av inofficiella namnvarianter kan riskera bidra till stigmatisering och politisering.
I Socio(historical) onomastics through the language-philosophical lense, with reference to early New England titles of civility förmedlar Adrian Pablé en teoretisk semiologisk genomgång och kritisk reflektion över den historiska socioonomastikens möjligheter och begränsningar.
I Signals of onomastic capital: From transhistorical roots to the contemporary globalized trend of sponsored names analyserar Guy Puzey, Jani Vuolteenaho och Matthias Wolny den idag alltmer utbredda kommodifieringen av sponsrade platsnamn och undersöker hur namn kan fungera som onomastiskt kapital.
I en Concluding commentary: the social and political life of names and naming för Reuben Rose Redwood avslutningsvis en kritisk och konstruktiv diskussion om socioonomastikens möjligheter som också innehåller intressanta resonemang kring volymens bidrag.
Så gå in och läs det spännande första numret, inspireras av de många perspektiven och bidra till fortsatta diskussioner och analyser genom att sända in egna bidrag efterhand!
P.S. NoSo 1-2021 har redan ca 400 nedladdningar!
Emilia Aldrin